For the Love of Puppies and People
Serving families for over 27 Years!
Most Commonly Visited Pages:
The Process is as simple as 1 2 3 
Step 1
Check out our available puppies here on the website and on the available pups highlight on instagram to see who we have available.
Step 2
Make it official! Once an application has been accepted, your $800 deposit is non-refundable and will be applied to total PPP investment of $2,800.
Step 3
Set up "Got ya day" by deciding if you will have your puppy delivered by our PPP Puppy Stork delivery team or if you will pick your baby up.

Pick-up
You can pick your puppy up from our location in Leawood, KS, or Gardner Kansas. If you fly in to get your puppy, we can meet you at the Kansas
City airport for a $150 fee.

Puppy Stork Service
You can have your puppy hand delivered to an airport near you, by a PPP team member! Delivery fees start at $750. Subject to increase based on location. At this time we only offer deliveries within the US.
F1 Cavapoos
Mini or Toy Poodle + Cavalier King
Charles Spaniel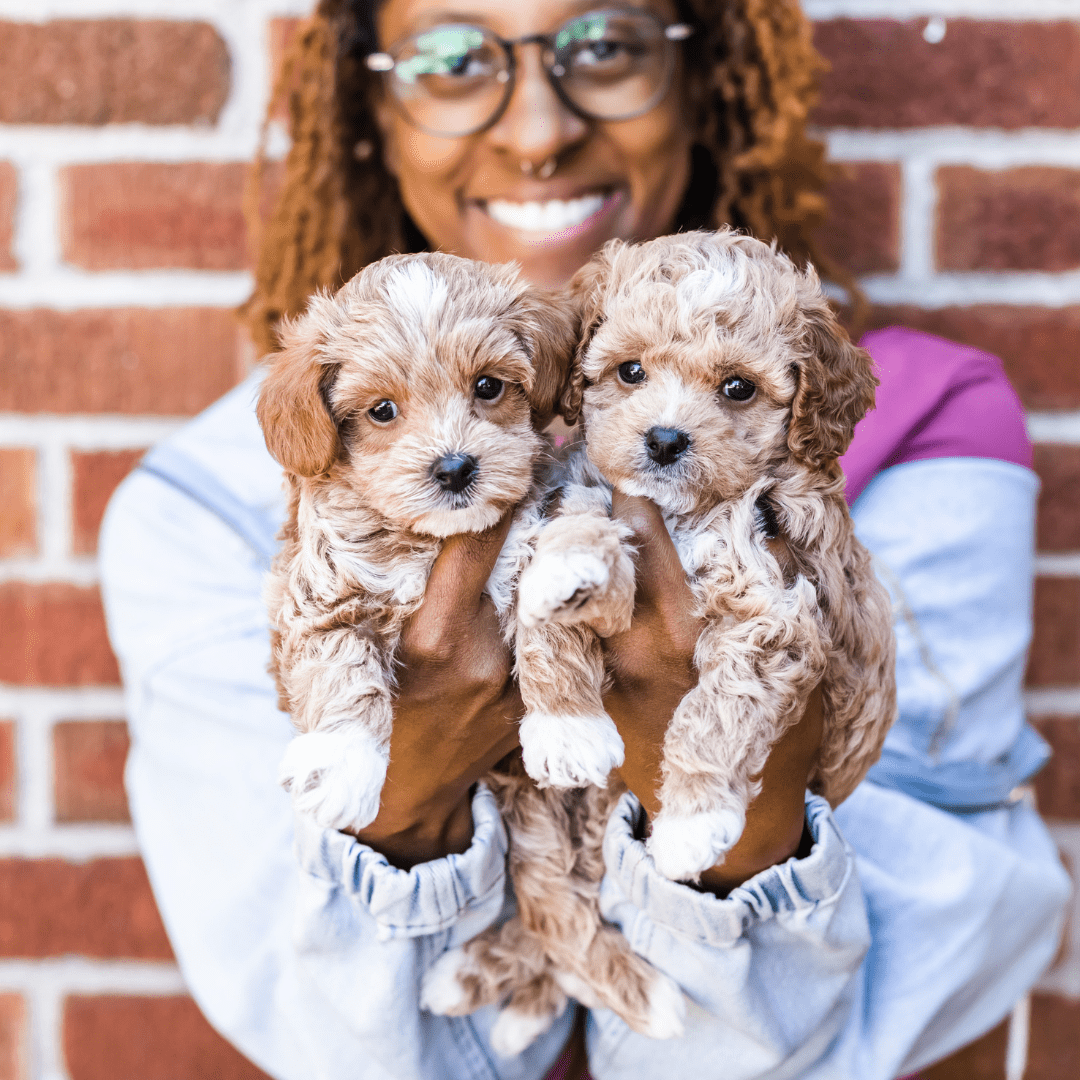 F1B Cavapoos
Mini or Toy Poodle + F1 Cavalier King
Charles Spaniel
les
F1B Bernadoodles
Standard Bernedoodle + Standard or
Mini poodle
Toy & Mini Poodles
*Select puppies are kept for
our breeding program
SOME PUPPIES FROM THIS SEASON
Healthy Puppies Start With Happy Parents
Loving the parents of our puppies is a big part of the Picture Perfect Puppy difference! 
Here at Picture Perfect Puppy, all of our puppy parents are raised with love and care and absolutely adored in what we call forever "Guardian Homes".
 Individuals who are accepted into the Guardian Home program to be the new forever families of our future PPP moms and dads have one main job and that is to give these dogs the best well rounded life of love humanly possible. 
The
 program works by families just like you applying to be a part of the program and if the 
application
 is accepted, you 
choose between
 purchasing  a PPP Purebred, Cavalier, Mini/Toy/Standard Poodle or a Bernese Mountain dog at around 1/2 our pet price and that up front cost is earned back through the Guardian Home does litters of puppies. The new Guardian Home then receives a healthy, high quality puppy that will be part of our breeding program until PPP retires the dam or stud. 
People that participate in the Program are responsible for the breeding dog to raise as their own pet and love it with all their hearts, while Picture Perfect Puppy is responsible for the breeding aspects of the dogs life this way all the bases are covered and the parents in our program are looked after from every angel!
The moms come to PPP to deliver their puppies and stay with PPP until pups are weened unless requested otherwise by the Guardian Home family and all breedings are facilitated by PPP staff. 
The amazing people that are selected for this program care for the dogs during their day-to-day lives as well as when the mom is pregnant and has the option of requesting to keep the mom and pups in their home for delivery and the first 5-6 weeks of life!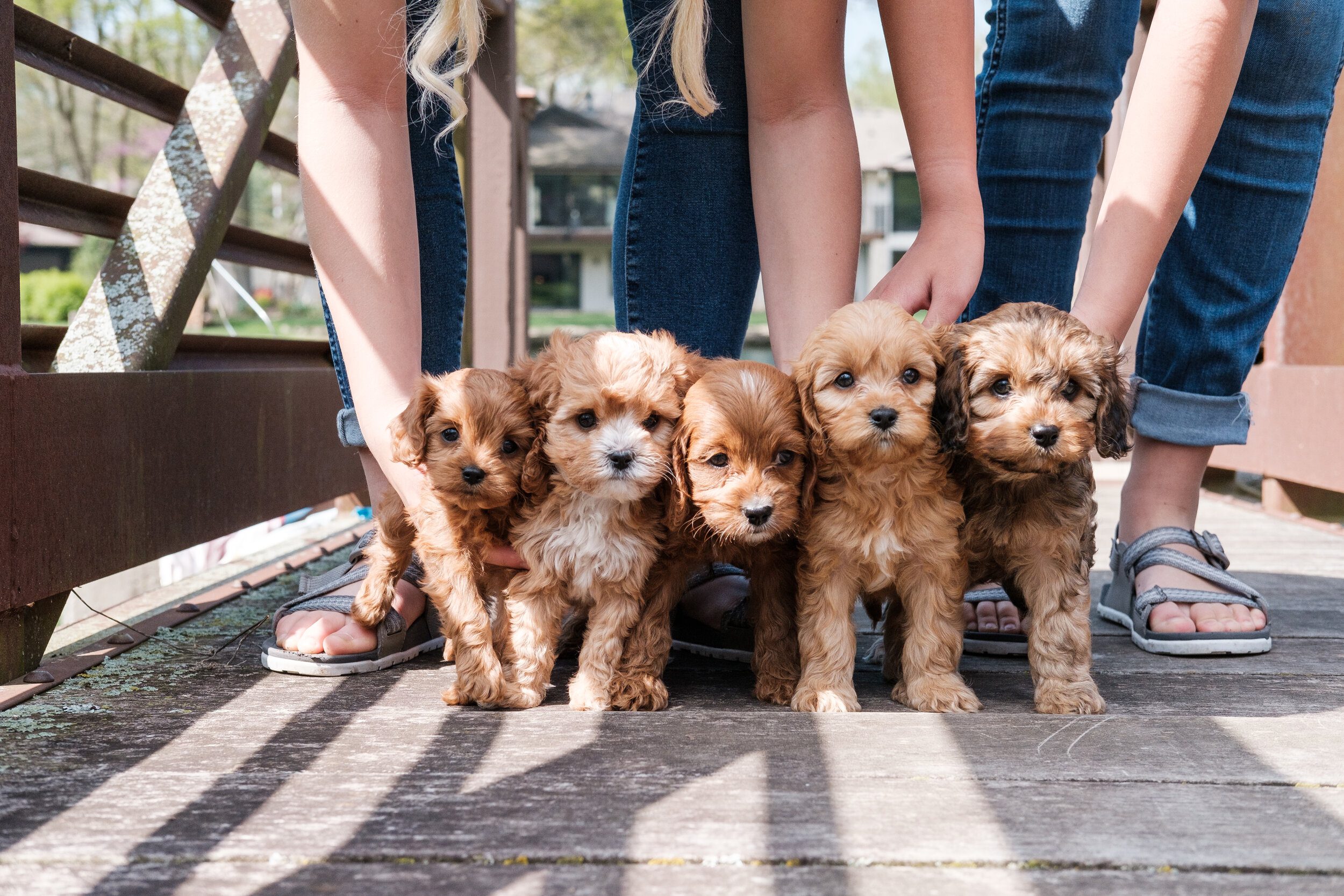 Interested in joining our Parent Program?
The #1 requirement to be accepted is to be a loving and responsible pet owner.
Additional requirements include:
Grooming Requirements
1 month before heat/breeding

4 weeks before delivery (shaved belly and genital area)

Week of coming home from whelping (suggested)
Yearly Vet Requirements
Vaccinations – rabies, bordatella

Routine vaccinations Heartworm – year round

Flea and tick protection, March – Nov.- must be Bravecto.
Female Heat Info
Female dogs who are to fixed are not hard to take care of during heat cycles. A common misconception is that a female dog bleeds like a human does and that is simply not the case. We highly recommend that you google information on Female dogs in heat!
Signs of being in heat – swelling, spotting, and licking themselves more than normal. Females will have their first heat around 7-10 months and breed at the time of their second heat approximately 6 months later. Please be aware that we will use each heat cycle unless otherwise notified. This is the safest breeding practice as uterine infection risk is higher if a cycle is not used. Mothers are pregnant for 63 days before giving birth.
Male Info
Un-neutered male dogs WILL mark at some point but they can be trained not to in the home but you must be diligent for this to be the case. Belly bands are a great solution to this problem. Start using a belly band when your dog is young so he will get used to it.
Males will become fertile around 6 months of age and will be used by PPP starting after 8 months.
PPP Consultation (Puppy Purchase or Join the Forever Home Guardian Program)
Sara would love to schedule a  1:1 Consultation with you. You can use this time to talk about our process, the heart behind our business, or whatever is on your mind about puppies.
Here are some common questions we get often:
What is a PPP?

How do I get on the wait list?

What Breed may be best for our family?

Does my current puppy have to be a PPP?

How and why do you incorporate your faith into the PPP program?
A PPP Consultation call is a great way to personally get your any questions answered by Sara!
Breeding Consultation
Interested in becoming a breeder? Book a call with our Owner, Sara Anderson, to learn more about the PPP process.
On the call Sara will help you understand your why as well as determining your next steps to develop an amazing program! PPP wants you to have a successful breeding program that is built on a firm foundation of love and care!
Each session is approximately 30 minutes. Financial investment of $100.00 is required Price subject to change based on demand.
Picture Perfect Puppy Ministry
Picture Perfect Puppy has been a way that our owner Sara, has spread love and joy throughout countless homes across the country over the last 13 years. And really the spreading of that love and joy via baby animals proceeded the founding of PPP as Sara has really been bringing life into the world and spreading the love 27 years. It all started on a small farm in western Kansas when she was just 10 years old. Sara has always loved 3 things in life, people, animals and Jesus. Anyone who knows her can attest to that.
The year that PPP was founded Sara and her son, Samuel, found them selves in a dark time of their lives and Sara cried out to God for help and joy to be brought to their lives. God answered that prayer with a beautiful letter of puppies that were raised with so much love and care that they were walking calling cards for, PPP and people called from all around asking for Sara to start a wait list so that they too could have their own PPP. What they didn't realize was that every phone call that came in made it possible for Sara to justify having another litter of puppies for she and her son to look forward to to take their minds off how hard life had become. Puppies and Jesus were their only bright spots in life and every single puppy that went home showed that love and care and blessed the families they wernt't home to.
With every single litter that was born Sara and Samuel prayed, "Please let just the right puppy go to just the right home at just the right time, Jesus", and they have seen God move mountains to make that happen.
As years passed Sara realized that her puppies were in such demand that they may not only be able to provide joy and love and excitement but for Sara and her son financially and thus the business aspect began! PPP was not born out of the need for finances but out of the need for love and joy and that love and joy has been the backbone of PPP for 13 years.
Sara and her now very large family have never lost sight of the fact that PPP is a joy spreading, love sharing ministry provided by Jesus Himself in, Sara's darkest years. At the heart of PPP is a ministry of love and care.
We are continually looking for ways to spread Jesus love and the love of our puppies with others. PPP financially supports our ministry, Evidence of Grace. Evidence of Grace is a ministry, of just what it sounds like, Gods grace to the hurting world we find ourselves in…
Evidence of Grace, is really the essence of Sara and her family's story. There has been so much darkness and tragedy and trauma that has touched their lives that the grace of God shines through that much brighter! Sara made a deep commitment in her heart at a young age that she was going to, let her little light shine and that no matter what she was not going to let anything put that fire that was burning inside her out.
Through years and years of struggle Sara has found victory over many many struggles and is dedicated to leading others to victory in Christ through trustworthy fellowship, Heart Healing, Deliverance, Therapy, Mentorships and simply walking with Jesus even through dark valleys. And she and her team want to walk through life with you too!
If you have any questions about faith, mentorship, heart healing or deliverance please do not hesitate to schedule your call with Sara today, she truly can not wait to hear from you. For Sara, life is rally all about the, "love of puppies and people" (and Jesus of course)
Here at PPP and EOG we firmly believe that without love we are literally nothing.
Frequently Asked Questions
Where Are You Located?
We are located in Leawood, KS, fairly close to a large airport. (MCI)
How Long Has Picture Perfect Puppy Been in Business?
We have been breeding with integrity for 13 years as PPP, and we have loved every stage of PPP. However, our Owner Sara has been breeding since she was 10 years old and had a wealth of knowledge and intuitive expertise that is very rare.
Do You Do Genetic Testing?
Yes.
All our Studs and 90% of our Dames have had genetic testing. All of our dogs are in exceptional health and are thriving.
An important note is that we have had some of our breeding lines for 13 years, so once genetic testing became available, I did not feel the need to jump on it as we have had a 13-year track record of excellent health. However, as we have introduced new lines into our program, I have felt the responsible thing to do is to go forward with the testing. Plus, I am super curious and want to know what I can about my parents!
I love learning and growing in all areas of my life and business.
Even with all the fancy things out there now, I still believe that prayer, love, and care are the most critical aspects of any breeding program. If you love wholeheartedly and care for every part of the animal, you will invest in their overall wellbeing and the best dogs possible on the front end when choosing what dogs to purchase to breed (like I have done).
Genetic testing confirms your knowledge and helps you be even more responsible in breeding pairs!
How Much Before Taking the Puppy Home Will We Know We Are Getting a Puppy?
We try to give you at least 3 weeks' notice, but with how our waitlist works, sometimes we do not know someone is passing or transferring their turn until later. We will try to let you know as soon as possible. This is the reason for the comment above, "be ready for the call any time." Learn that you can be offered a puppy at any time with each litter you see announced.
What if I Do Not Want Any of the Puppies From That Litter?
You can pass/transfer on your turn and use your one free transfer without hitting your deposit.
You must inform us ASAP and not after 5 weeks of age that you want to transfer so that waiting families can be notified of available puppies.
You may not transfer after submitting full payment.
How Will I Get My Picture Perfect Puppy?
There are 2 ways to get your puppy.
You May Come to Pick Up Your Puppy
Have Someone From PPP Deliver Your Puppy.
Let's talk about puppies, baby!
Puppies available regularly for those who have joined our wait list.
Leave Us a Review
This is such an important step and I thank you so much in advance for taking couple minutes to tell others about your experience with me and Picture Perfect Puppy. These reviews are such gifts to me and to the families who are trying to make an excellent and informed decision about who to choose to be their puppy's breeder. It gives people great comfort and confidence to hear from you about your experience and it helps me know if I have delivered what I have promised - my very best effort in making this a great experience.
Please either go to, Picture Perfect Puppy's, Facebook page and leave a star and  written review. Or just simply send me an email at sara@pictureperfectpuppy.com and I will upload it where people can see it!!

Follow us on Instagram
This error message is only visible to WordPress admins
Error: Access Token is not valid or has expired. Feed will not update.